Do you know OaT? Interview 031 with the newcomer from Bochum.
You rarely have the chance to accompany a newcomer in his success. All the happier I consider myself to have witnessed Johann's story almost from the very beginning. One can confidently say that OaT has stood out from the almost endless mass of newcomers. Not at least through consistency and originality. That's why an interview with him was long overdue. But now lets get down and dirty with the facts!
TuB: It hasn't even been one and a half years since you appeared on the scene, do you have a musical background or how did you come to DnB?
OaT: There is a bit of a musical background; I played piano for six years but sadly quit at fourteen because it annoyed me to play pieces composed by others and my musical interests changed a lot at that time. As a teenager I thought Eminem was pretty cool; then I discovered Fred Durst and Limp Bizkit and immediately fell in love with this "Nu-Metal" sound.
As time went by I found more and more pleasure in harder things (yes, it's the same phenomenon as drugs) and found my way to Linkin Park, Korn, Slipknot and colleagues. At the same time I started playing electric guitar and jamming along to my favourite songs, but quickly accessed a way to write songs myself. With age came maturity—I started to listen to more progressive stuff (Tool, A perfect Circle, Opeth, Dream Theater) and to browse around in other genres (Trentemøller, Nine Inch Nails, Puscifer). Until today Trent Reznor is one of my greatest idols.
In 2016 I attended my very first rave at the age of twenty-seven. A short time later I somehow found my way into the "Druckluft" (Oberhausen). Many ravers find the atmosphere there cool; unfortunately I felt everything but comfortable. The group I was there with knew one of the DJs, which was the reason for our visit there. Mainfloor Techno, second Floor Drum and Bass. That was my first contact: We entered the floor and I felt the energy, people were stepping , everyone was in a good mood and had fun. It was brutal neurofunk which reminded me of the sound of evil, tuned down and distorted guitars. The fascination started at that very moment. But I still don't like the "Druckluft" today.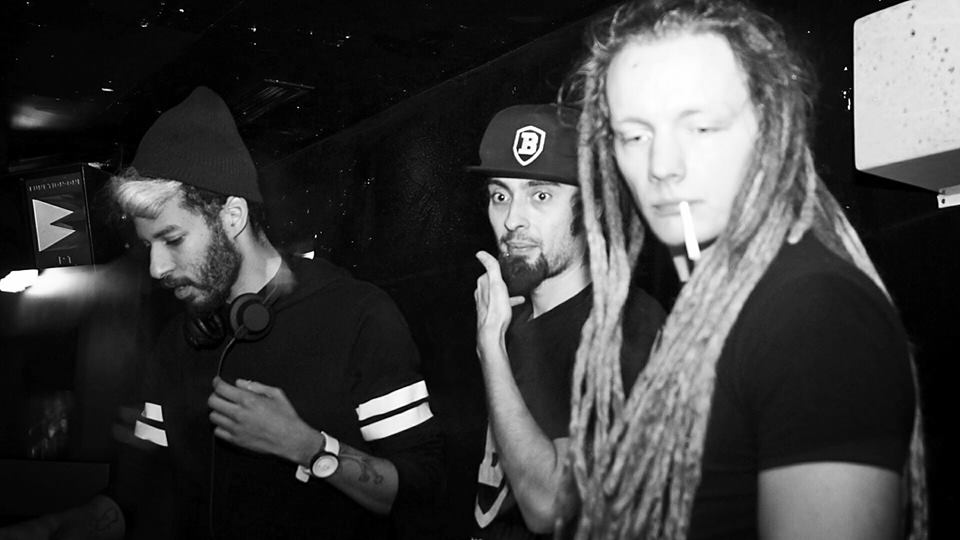 TuB: One of your first uploads was Brain Damage (Or: 'A Tribute to Alix Perez'), so was it clear from the beginning that you would do more minimalistic stuff?
OaT: In fact, I actually started fooling around in the direction of Neurofunk. After that evening in the "Druckluft" I searched Spotify and YouTube for the sound I found so interesting. I found Mefjus, Gydra, Akov and of course Noisia. Not a week later, after I started my DnB "studies", I found Ewol, Wingz, Enei and Alix Perez. Before I started to produce Drum & Bass I created prog Metal for years in a minimalistic Bedroom-Studio (yes, there are some songs and no, I don't show them to you :D). But I never learned the craft, so it was all more like "Ok, the button does that… this one does that… Shit, what happened now?".
But with DnB I wanted to take the whole thing more seriously, so I started to spend a lot of time in the DAW and teach myself everything. I didn't have any money for audio engineering studies, so it was the only possibility besides hours of tutorial watching on YouTube where I was too ambitious for myself. I wanted to learn it myself. "Brain Damage" was created out of a pure experimental mood with a very interesting VST-synth called "SynthPlant". I looked at what the thing could do until this fluttering sound jumped out at me. I just thought "shit, it almost sounds like The Raven" (and I loved that tune), so I decided to make it a tribute track spontaneously because I didn't think there was anything like that in the scene yet. I designed "Brain Damage" so that you could drop it almost perfectly live with "The Raven" simultaneously.
After that I focused intensively on Alix Perez. For me there were clear parallels to Trent Reznor—not of a musical nature, but rather of attitude and ideals. Both do what they think is progressive—and completely independent of any norm. I found this so impressive that I devoted myself more and more to the minimal genre because I found this genre more "artistic" than e.g. Neurofunk or Jump Up. Art is cool.

TuB: Of course, newcomers like to knock out tracks for free (like here) to reach the masses, what do you think about that today?
OaT: Without stepping on anyone's toes here, I want to say that free tunes are often just second grade. I Also brought something out for free, here and there, for nothing because either no labels were interested or I had the feeling that the track was weak. We producers usually have extremely high demands upon ourselves, but when our material is ready and can't find a home anywhere—then let's get it out. For many artists Free tunes work very well, especially with Hypeddits Follow-Gates for example you can work on your followers and through the many reposts e.g. on SoundCloud you can reach people you might not have reached.
It was the same with my free EP on Boey Audio—suddenly Arkaik knocks on the door and says he thinks "Obscene" is fat. That was really cool for me. The bottom line is tunes for free are a cool thing. But as with everything else, the crowd picks their poison.

TuB: I can imagine that your rocket-like success can also be quite exhausting, how did you experience the whole thing?
OaT: I wouldn't like to call it "rocket-like", but – oh man, absolutely. 2018 was super successful, while being all but relaxed. I'm lucky to work as a freelancer in event technology, but at the same time have very low fixed costs. I work a maximum of ten days a month and spend the remaining twenty days in the studio. That's the reason for my enormous output and all the releases that have flooded the market since autumn.
But unfortunately as an aspiring artist you don't just build tunes. What is also included is to send all the stuff to labels, wait patiently for answers, negotiate details, send tunes to established artists, get feedback, listen to current releases, manage your own mailbox, expand your network, maintain your own social media, deliver content and a hundred other things. Since the middle of last year I also have the honor of mastering for the one true Florian Kaiza and his label "T3K Recordings" releases. Here I strive for constant progress; after all you want to become better at everything you do. Other labels are also interested in my mastering work.
This high workload brings sacrifices with it. Hours sitting in front of the phone, headaches from staring at the screen, being awake at night because you have ideas you would like to bring directly into the DAW; these are only a few things. I'm often stressed and tired—then outside this small universe there's family, friends and a girlfriend who deserves the same attention. But even there I'm really lucky to have an incredibly supportive girlfriend who has infinite patience and always listens to my nonsense. Thanks for that! In the end all this led me to not doing any musical work on weekends for a few months in order to clear my head. The need to do nothing for the whole of December also arose. That was necessary and gave a lot of strength for 2019.

TuB: How did the collaboration with T3K come about and in general, what are you doing?
OaT: In February last year I sent a load of tunes to several labels. The boss of Kill Tomorrow answered that he likes the songs, but unfortunately they don't fit his label. Furthermore he said that he sent the tunes to Florian, probably a long time friend. In principle he "set us up". We built some tunes together. One of the results was a Collab EP on Georg Phlages's label "IN:DEEP" from which two tracks made it to Noisia's radio. Musically this is very different from my solo stuff. As already mentioned above, I'm mastering for T3K, I'm also an idea generator, involved in A&R and a passionate meme-overlord.

TuB: Tell me something about your workflow, how is a typical OaT track created?
OaT: I start Studio One, create a new project with one of my templates, find an inspiring sample and the rest is done by itself. I write a tune in one day, leave it a bit and then come back for detail work. Done! I created my templates myself. It contains a naked instance of a sampler ("Xfer Nerve"), various subgroups, various EQs pre-inserted, a naked instance of "Serum", a finished drum midi track, two reverbs as FX send/return and other things. To say; I can start right away. With each completed project, the template changes.

TuB: Your Top 5 VST's and why?
OaT: Big tip for everyone who's just starting to produce: learn your own DAW plugins. When you're done, learn them again. Then you'll see what else there is.
SerumFX is the biggest part of my production chain from the beginning. It has everything you need, almost everything, a thousand possibilities for automation, sound editing, stereo enhancement without phase nonsense and much more. Not a lie: I have SerumFX on EVERY channel. Without exception.
All Fabfilter plugins are recommended. Super versatile, super clean, maybe not very simple but very effective. Especially Pro-MB is great for frequency band based sidechain compression because of the bite and the free selection of frequencies that should trigger the sidechain.Binaural Pan. Studio One's own Stereoenhancer plugin. Has a potentiometer, does what it should and is honest.
Serum. All my basses are made here. I don't have to say much about Serum, do I?
IR-L from Waves. Convolution Reverbs are on the rise because they can be personalized, sound awesome and are great for creating sound spaces. Gives, correctly used, soul.

TuB: Are you familiar with the term 'Writers Block' and if so, how do you deal with it?
OaT: There is no such thing as a "Writers Block". You can force creativity. I won't duck here because I'm fully behind this statement. If you're not inspired or think you're sitting in a writer's block then go on until you find inspiration.
I don't know if you can apply that to all creative work or not, after all I don't do illustrative design or writing poetry, but when it comes to music I ALWAYS find a way to kiss the muse. Either it's a sample that I want to cut, stretch, reverse, pitch or distort directly or it's a sound in a tune that I find fat and wonder how it came about. When trying to replicate this, happy accidents happen and zap—there's your new idea. It's not hard, but it takes some practice, stamina and time to understand that at least musicians can't have a writer's block.Most of the time it's their own demands that stand in their way and not lack of creativity.

TuB: For someone who is relatively short in the game, how do you experience the indie music scene?
OaT: It is exhausting. As a fresh artist you have to look around first. Who is who? Who has what to say? Of course social media is a big help. For example, you can get in touch on Facebook pretty quickly. If you ask the right people there is also a lot of background information. I got to know a broad spectrum. From established artists who thank you for dubs to arrogant idiots who don't answer you because your name doesn't mean anything to them, everything is there.
Fortunately I got a lot of support from Noisia, for example. Besides seven plays on Noisia Radio in about eight months I am very active on their Discord. I can recommend everyone to drop by; there are chats with the guys themselves, production tips and lots of memes. It's great. On the other hand, I also have to praise the people who made it so much easier for me to enter the scene by offering their platform. Thanks a lot to Adam von Boey, Florian, Fabian von DistrictBass, Sebastian von Drum&BassArena and OVERALL to Joshua von Forest Biz who believed in my music since hour zero. Big ups!
TuB: What does the future hold for OaT?

OaT: Maybe the sentence doesn't make sense in terms of content, but:
Besides the return to the forest business there are pseudoscientific experiments in an invisible methamphetamine laboratory in which I produce addictive drum armies. It'll look like vandalism, but it'll be totally handsome. In addition, people will skank to these basses and eventually dissolve into fractals. Is that enough?
OaT
SoundCloud • facebook • Spotify